Description
Principles of Prolotherapy Textbook
With more than 250 color photographs and 100 anatomical illustrations, Principles of Prolotherapy provides a comprehensive guide to the body's musculoskeletal anatomy as it pertains to the practice of prolotherapy. This practical resource book is intended for professionals who treat chronic musculoskeletal conditions.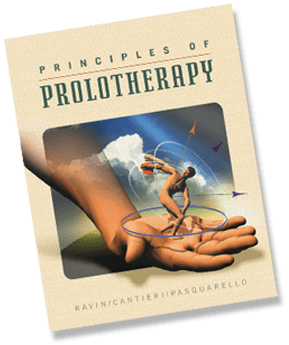 The initial three chapters set the stage for this reference manual. Chapter one introduces musculoskeletal medicine and prolotherapy and lays out the book's organization; chapter two details the role prolotherapy can play in healing acute and chronic injuries; and chapter three discusses the degenerative postural cascade model and the way in which ligamentous laxity contributes to postural decompensation.
The other nine chapters are organized by body regions. Each chapter details the anatomy of a specific region, its anatomical danger zones, referred pain patterns, and pertinent osteopathic manipulative treatment. Step-by-step prolotherapy injection procedures for each major musculoskeletal group conclude the chapters. Color photographs with specifically created graphic overlays of the underlying ligaments and tendons illustrate precise injection techniques.
Drs Ravin, Cantieri, and Pasquarello have combined their knowledge of treating acute and chronic musculoskeletal pain and their expertise in osteopathic manipulative medicine to train thousands of physicians from the United States and 17 foreign countries over the course of nearly 20 years. Their pains-taking collaboration has resulted in this concisely written and visually accurate manual.
Mission of the Book
Describe the current rationale and science of wound healing and prolotherapy.
Demonstrate the role of ligamentous laxity and joint instability in chronic pain.
Demonstrate the relevance of the tendon's enthesis and the role of Enthesopathy in chronic pain.
Illustrate the importance of a thorough understanding of anatomy and danger zones in areas to be injected.
Emphasize the importance of a systematic approach to physical examination for Enthesopathy and joint instability.
Provide a step-by-step description of injection techniques utilizing state of the art computer enhanced photographs.
For shipments outside the U.S., we will find the best shipping rate possible. Prior to shipping, you must provide us with payment and shipping information.